Our 9 Step Project Process
DESIGN EXPERTISE FROM EVERY ANGLE
When clients come to us with a concept, they want to rely on us to provide the very best in terms of advice and support. The 'Design Triangle' concept has been formed through years of experience considering each of the foundational 3 areas for design. For every project, we ensure adequate consideration is given to each of these principles to provide our clients with the assurance they need.
With each design being so uniquely formed, this is fundamental to the success of every joinery piece we create so lovingly in our workshop.
DNA, SCOPING AND UNDERSTANDING

Understanding the project background or its DNA, the guiding principles which lie behind the development and reviewing specific layouts and drawings whilst identifying the scope of the joinery package and how each item relates back to the core concept.

COST PLANS, APPRAISAL AND DEVELOPMENT

We work to produce a budget cost plan, including marked up layouts to clarify understanding of the scope of works before collecting feedback from clients and architects. We then conduct a full joinery appraisal, producing a detailed and specific cost plan. Once approved we manage the detailed design development, specifying exactly what will be supplied so that there is no surprises.

SAMPLES

We understand that there is nothing quite like being able to handle a finish in order to be fully satisfied. This is why we will provide samples of the finishes and surfaces you are looking to achieve.

SITE SURVEY

Utilising the latest 3D surveying technology, our team of dedicated project managers will carry out a detailed site survey to enable accurate designs and most importantly, to ensure what we make will fit onto your site.

3D DESIGN

The design package enables full 3D renders and industry leading levels of detail in production drawings. We leave no stone unturned to ensure everyone has a crystal clear understanding of what is going to be built.

MANUFACTURE

Our production process utilises the latest CNC operated machinery along with traditional proven methods to provide you with the best consistency. The team of highly skilled joiners bring all this and carry out the vital quality checks on completion in the workshop.

RAMS

(Risk And Method Statement) To enable safe installation through project specific risk management.

INSTALL

Skilled site fitters manage and implement all aspects of site logistics and the joinery install.

FOLLOW UP

On project completion, our team remain on hand and in contact to ensure everything runs smoothly.
Paragon Facilities
Back in 2008, following 2 years of quick growth from the company's inception, a plot was selected opposite our original workshop in Reading. By 2009, the new building was complete, and we moved into our newly constructed facility with the shiny new workshop covering over 11,000 square feet, which has been our base for creating fantastic joinery ever since.
The doors are always open to visitors, so please do drop in when you are next passing by or arrange a dedicated workshop tour to see the team of joinery experts and craftsmen in action for yourself.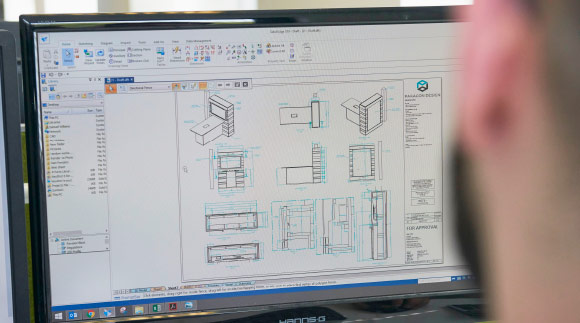 In-house
CAD professionals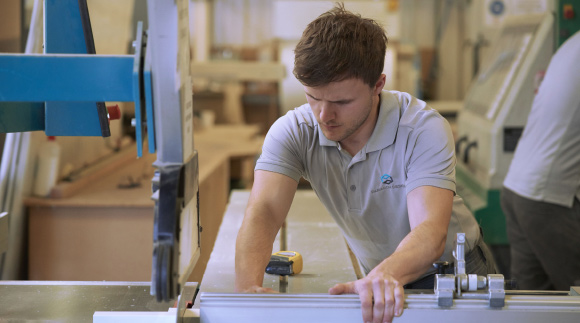 Experienced
joiners
A purpose-built manufacturing facility in Reading
In-house CAD planning professionals
Multiple capabilities – In house veneering, manufacture, assembly & spray finishing
CNC machining capabilities
Fabricators of all solid surfaces
Quality closely monitored and controlled in all production processes
Investment in modern machinery & highly skilled workforce
LET'S DISCUSS YOUR PROJECT